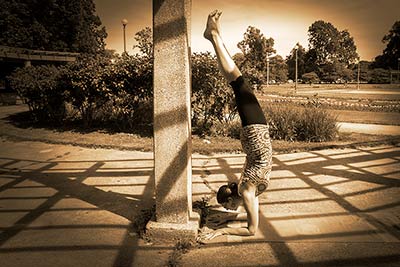 Our stress response has kept us alive for millions of years.


... Until now. Unfortunately, your body and mind cannot differentiate the mental stress of modern life from the mental stress of fearing for survival.
Human beings have not lived in our modern, buzzing world long enough to gracefully adapt to it. We actually deal with it rather well, for a period of time. But chronic stress leads to chronic fatigue. Actively practicing stress reduction alongside a balanced diet, exercise, and sleep is often necessary to push back against the din of our busy lives.
We must adapt.

We can engage our stress response in a healthy way to toughen us up as we do when we exercise or fast. But too much is just too much. Active efforts to reduce stress are required for most of us to achieve balance. It may not be surprising that health research shows over and over that:
Mindfulness supports Wellness.

Read below about healing guidance we offer through hatha yoga poses, concentration, meditation, and mindful eating exercises (and more!) to support your highest good.
How can Yoga Support Wellness?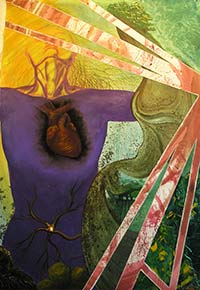 Unify, Balance, Restore.
Hatha Yoga, "the union of the sun and moon," is an eight-limbed system for personal growth and development. Wellness derived of yoga practice follows from the regularity of and awareness one brings to the practice.
At Eating with Ease, we use four of these limbs for therapeutic benefit: asana (poses), pranayama (breath control), dharana (concentration), and dhyana (meditation).
We offer guidance using asana, or yoga poses, to address internal and external challenges. Like physical therapy exercises, yoga poses may address strength and flexibility -- like a tight low back. Yoga poses also can affect endocrine glands and hormone production, energy levels, and emotional states. At Eating with Ease, your dietitian may offer to teach you a sequence of poses that help address your physical and mental challenges (and accommodate your physical abilities). Most people feel mentally at ease after a yoga class or an at-home yoga practice, even if for only 5-10 minutes per day. Poses are powerful tools if you perform them mindfully.
Beyond targeted wellness benefits, yoga poses encourage fat-burning metabolism and assist weight loss in more ways than just one. Yoga can also be a welcome and safer alternative for those who have limited physical mobility, joint inflammation, high blood pressure, or other reasons to be cautious during exercise.
More about Mindfulness Methods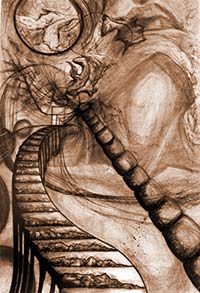 One thingk at a time.
Mindfulness is the state of being present -- focused on one thing at a time. Many techniques may be used to develop mindfulness with greater ease. Beyond the poses of yoga, your dietitian is an experienced Kriya Yoga meditation instructor and may offer you guidance in up to three categories of mindfulness training:
Breathing exercises or pranayama help connect the mind to the physical body, and can be used to intentionally change or to observe the existing breathing pattern. Especially when speaking, many of us are not aware of how we are breathing -- a wasted opportunity to address stress, mood, and energy. Whether to relax at work, improve sleep, or balance emotional tendencies, manipulation of the breath is a powerful tool. Our breath is our perpetual connection to and exchange with the world around us.

Meditation and Concentration exercises help one move away from mindfulness as a practice connected to a physical sensation and toward awareness of inner grace and turmoil. Concentration is holding the mind to one thing with effort while meditation is holding the mind to one thing effortlessly. A growing body of research indicates that regular meditation can help reduce pain, assist weight loss efforts, reduce stress and fatigue, diminish depression -- and these are just some documented benefits!
Combining nutrition with mindfulness, Mindful Eating is a group of techniques for bringing more awareness into the eating experience. Some benefits to exploring mindful eating include enjoying previously overlooked tastes and textures, feeling less rushed by the end of a meal, building simple habits into your eating style that reduce overeating, and improving digestive function.
Multitasking seems efficient until we become unable to focus or complete tasks. These methods train mindfulness we have lost.
One bite at a time, One breath at a time, One thought at a time.
Being here can be healing.

Breathe with me.
Join me for weekly hatha yoga classes in the Denver, CO area:
🕉 Thursdays, 6 to 7:15 pm, at Santosha Yoga in Wheat Ridge, CO
Enjoy an open-level vinyasa flow class to gracefully wrap up your week.